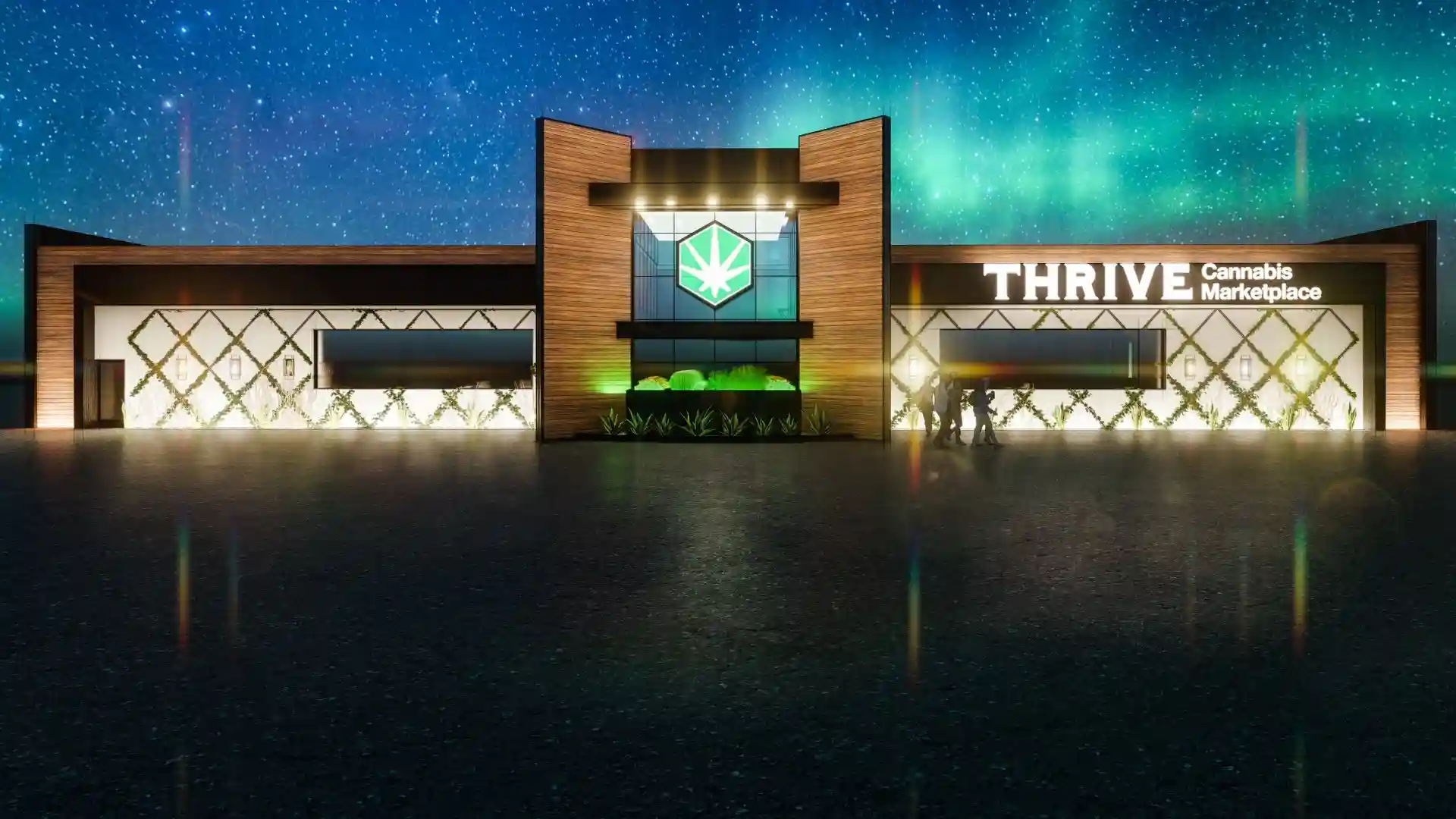 If you are in Vegas and staying near the Resorts World hotel in Las Vegas, then you are only steps away from the newest Thrive location! Opening soon, Thrive's newest location is right next to the strip at 2975 S Sammy Davis Jr Dr, conveniently located near all the action. 
If you have ever wondered what all the fuss was about, here is your chance to give cannabis a try while you are in Vegas. After all, what happens in Vegas stays in Vegas. Let's look at some facts about cannabis use in Vegas and why Thrive is the right choice for all your cannabis needs.
Thrive can help make your Vegas vacation a memorable one.
Thrive Cannabis Marketplace is the largest independently owned cannabis company in Nevada. With over 5,000,000 successful sales transactions since its inception, we are dedicated to high-quality standards for our customers. We are happy to educate anyone who wants to learn about the benefits that cannabis could have on their vitality and happiness.
Our expert budtenders are happy to discuss with you the different strains that are available to suit your needs. Additionally, we are committed to providing each customer with an experience of professionalism, compassion, security, and privacy. Our budtenders are known for going the extra mile to help you find the product you need. You will find information about all things cannabis related to help you make informed decisions about your own journey into the wonderful healing potential of cannabis.
Our newest location is the Sammy Davis Jr. dispensary. It is conveniently located near the strip at 2975 S Sammy Davis Jr. Dr., Las Vegas, NV 89109. We are located on the corner of W Resorts World Drive and Sammy Davis Jr. Drive. 
If you are staying on the strip, head up North Las Vegas Blvd. and take a left onto Circus Circus Drive, turn left on Sammy Davis Jr Drive, and THRIVE will be on the right-hand side right after the W. Resorts World Drive.  Enjoy your trip to Vegas and indulge in cannabis tourism with our wide selection of flower, wax, shatter, and so much more. 
What is cannabis tourism?
One of the major attractions besides gambling in Vegas is cannabis tourism. Recreational laws regarding cannabis have changed in several states, and Nevada is one of them. Cannabis sales have increased to over $2.4 billion in the last few years, and that is partly due to cannabis tourism.
On November 7, 2000, Nevada legalized cannabis for medical purposes. However, it would be another 15 years before the first medical marijuana dispensary started operating. The Nevada Marijuana Legalization Initiative succeeded in passing full legalization of cannabis for adults 21 and older on November 8, 2016.
Since 2012, 19 states and Washington, DC, have legalized marijuana for adults over the age of 21. For those still living in states where it is illegal, it might seem like you are missing out. However, cannabis tourism may be a solution if you are interested in trying it. 
Who is allowed to purchase cannabis in Las Vegas?
According to Adras and Altig Law, anyone who is at least 21 years old may purchase, possess, and use marijuana recreationally in Nevada. Users can smoke or use marijuana without a doctor's permission. There are still some limitations, though. In Nevada, it is legal to possess up to 1 ounce of marijuana or 1/8 ounce of cannabis concentrate. If you are not a registered vendor, having a larger quantity is illegal. 
Marijuana possession on federal property in Nevada is unlawful because it is still prohibited by federal law. This also includes post offices, federal courthouses, VA facilities, airports (including McCarran International Airport in Las Vegas), national parks, forests, and monuments, including well-known tourist attractions close to Las Vegas like Red Rock Canyon National Conservation Area and Little Red Rock.
Contact us today for your very own unique cannabis experience while you are in Vegas.