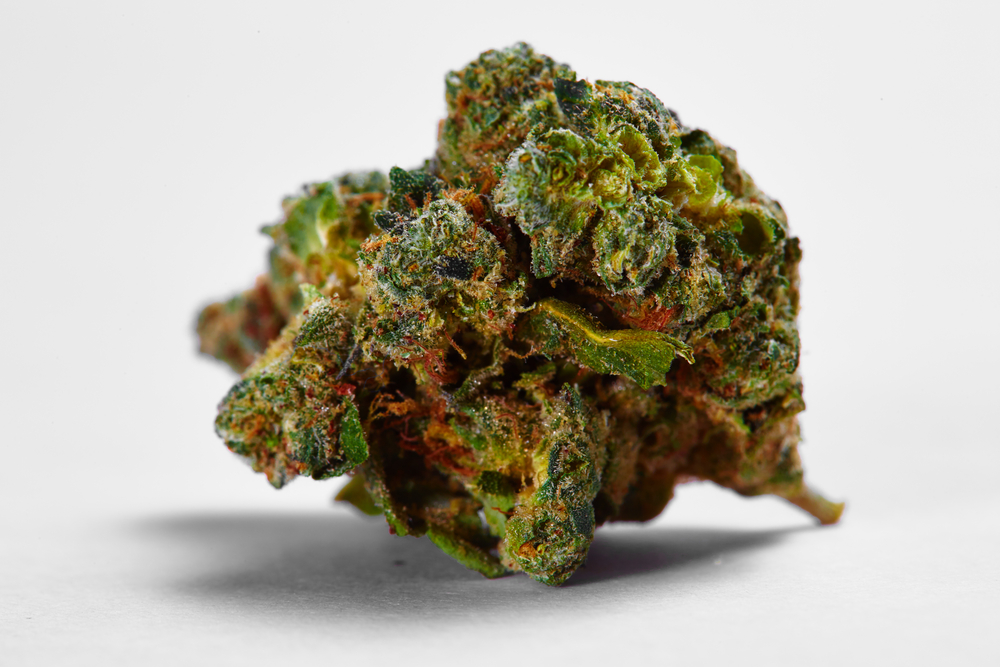 Don't let Green Crack's name fool you – this is 100 percent pure cannabis. Originally called "Green Cush", the strain was dubbed Green Crack by Snoop Dogg when he experienced its powerful sativa effects. The name has since stuck, but some users still prefer to refer to its original name to avoid any association to street drugs.
A sativa-dominant hybrid, this strain has become a staple in the medical marijuana community.  Green Crack strain reviews rave about its uplifting, trippy, and energetic effects as well as its unique flavor and powerful potency. Users enjoy Green Crack's price, especially as it's a daytime smoke and a little bit is all you need to get your day moving.
Aroma and Flavor
Our Green Crack is cultivated at its peak of potency and flavor. Most users find its tangy, fruity flavor to be smooth with notes of pine and citrus. The aroma can be best described as a balance of earth and sweetness with citrus notes and the faintest hint of mango. Flowers burn smoothly to create an all-around pleasant smoke.
Effects
As its playful name implies, Green Crack is an extremely energetic strain with one of the strongest "head highs" around. Sharp energy and focus are commonly associated with the Green Crack marijuana strain, along with confidence, overall happiness, and motivation. These attributes make it the go-to strain for medicating in the daytime or before a social event.
Many users have reported that the high manifests itself with strong creative focus and slightly psychedelic effects inspiring creativity in normally mundane projects. Beginners and more experienced cannabis users alike may find that a little Green Crack wax or concentrate can go a long way, as too much may lead to recursive cerebral thinking leading, paranoia or panic. Be sure to stay hydrated, as this strain is known for causing dry mouth and dry eyes.
Green Crack may be ideal for treating:
Depression
Anxiety
Bipolar disorder
PTSD
Stress
Fatigue
Loss of appetite
Chronic pain
Migraines
Find Out if This is the Strain for You
Is Green Crack the strain you've been looking for? Do you have questions about the different strains available to medical marijuana patients? Thrive Cannabis Marketplace is ready to help.  Stop into our dispensary in Downtown Las Vegas or our North Las Vegas location and our experienced budtenders will assist you in finding the smoke that's ideal for you. Or simply contact us with any questions you may have about medical cannabis in Nevada.
References